We are a group of motorcyclists with a passion for getting on our bikes and riding whenever we can. Our IAM trained observers form the core of RAMG and are available to ride with you, assess your ride and help you to achieve a high standard of roadcraft. Upon joining us you will be allocated an observer to help you work through the IAM Advanced Rider Course, leading to an advanced riding test on a variety of roads.
Our Group constitution is available here.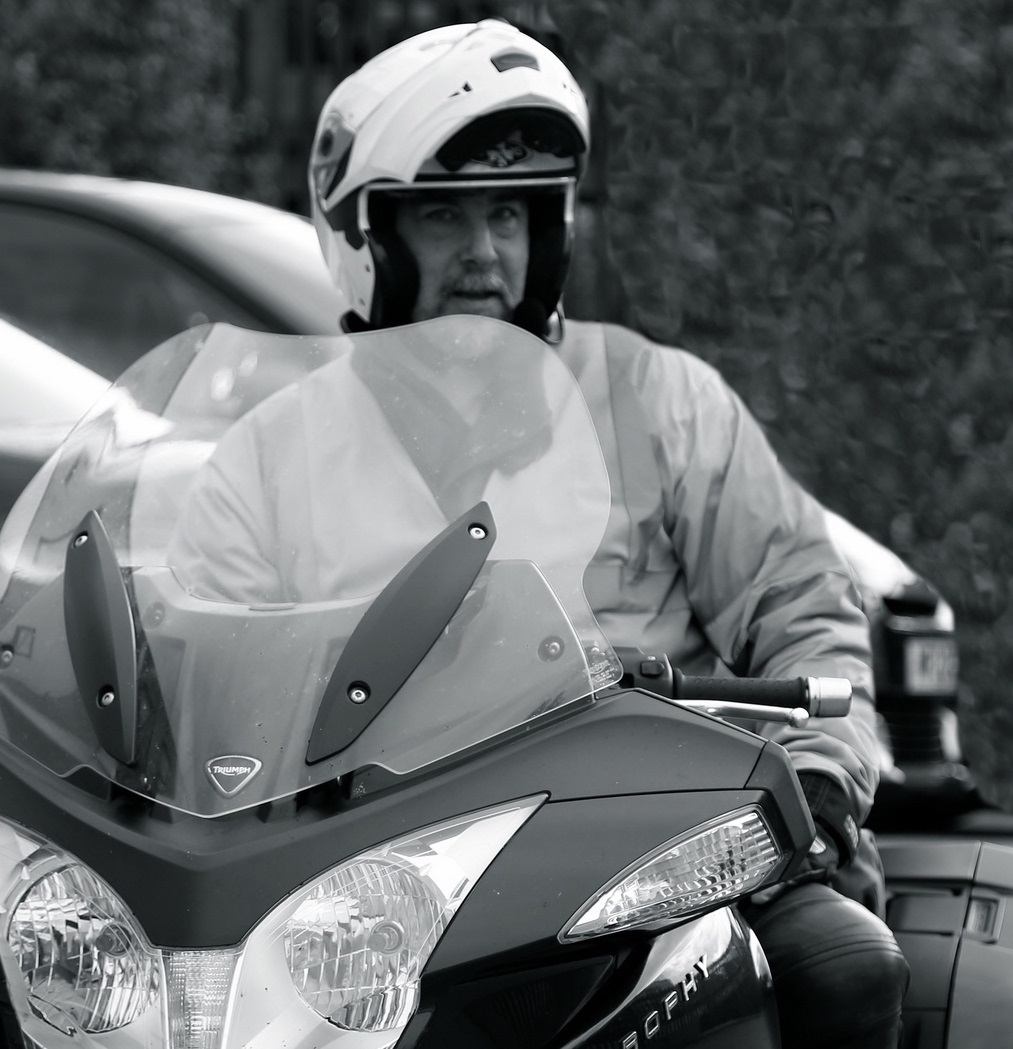 Chris Higgs - Training Officer
Chris joined RAMG in 2008, becoming an Observer in 2009, a National Observer and passing his Masters in 2014. Having achieved the National Diploma in advanced motorcycle instruction, Chris registered with the DVSA as a post-test trainer in 2015. He was trained to deliver the RiDE rehabilitation course and has assisted with the delivery of BikeSafe and Biker Down in the region. Chris achieved a Masters Distinction in 2017 and is also a DVSA Enhanced Rider Scheme trainer (ERS).
Phil Edwards - National Observer - Group Secretary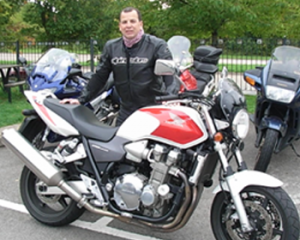 My affiliation with motorcycles started with a 125cc BSA Bantam that I bought for £8 in a box when I was 15. I nearly drove the neighbours mad riding around the garden and as far down the driveway as I could. At 16 I had a brief affair with a Raleigh Wisp before I progressed to that icon of the 70's, Yamaha FS1E. Next was another Yammie, an RD 200.
I passed my motorcycle test in 1977, a ridiculously inadequate event, twice around the block without falling off and they gave you a license to ride any bike on the road. That began and ended my early motorcycle training: except of course for falling off, bouncing down the road on my backside, getting back up and trying again. And then came another BSA - a Victor 500cc single cylinder thumper. For some perverse reason I sold the Bezza for a big Japanese single, a Yamaha SR500.
Then the wilderness years that so many of us experience. Marriage, career, children etc, got in the way of biking. Twenty years on I had the classic mid life crisis and returned to biking. I bought another Yamaha (you see a theme developing here). This time I got an FZ6 Fazer - What a difference from the thumpers of my youth.
I did the right thing by taking a "Back to Biking" course. As I bought the Fazer new, I then had 600 miles of fairly gentle introduction to modern motorcycles, before hooning round the countryside at break-neck speeds in a fairly uncontrolled manner. More by luck than judgement I made it through the first year, when the wisdom that comes with age (and several near misses) made me realise that if I didn't improve my standard of riding I would soon become another "Born again Biker" statistic.
I took the Warwickshire Constabulary's "Bikesafe" course and realised I had a lot more to learn than I thought. Consequently I joined RAMG and commenced my advanced rider training. With time and gentle persuasion, I was separated from the bad/dangerous habits that had become my riding style.
One of the major differences advanced training has made to me, is reduction of those "Buttock clenching" incidents (I'm sure you know what I'm talking about). I still have them, but much less frequently and when I do, I know what to do about it. In 2010 I went into the bike shop to look for some new gloves and came out with a Honda CB1300. More than thirty thousand miles later, we're still the best of friends.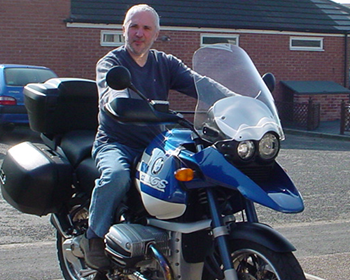 Roger Custance - National Observer - Group Chairman
Roger's bike history started with a BSA A10, then a brief induction into the joys of grass track riding, followed much later by various Hondas, Kawasakis, Yamahas, a Ducati 1150 and even a BMW 1150GS. As a fully committed petrol head he joined RAMG in 2011 to improve his riding skills. An advanced test pass in 2013 led to further training to become an observer for the group. He gained National Observer qualification in 2016. The support from other experienced riders in the group is invaluable to further improving skills in the dark art of biking.
Roger owns an MT-09 Tracer for everyday use and a KTM Duke for fine day fun. (There is space in the garage for a third bike but current negotiations with 'she who must be obeyed' have, so far, been fruitless.)
John Price - National Observer
John started with off road bikes at an early age and passed his bike test at 16. After leaving biking for a while, he then returned to biking some 15 years ago. He took a day's training with West Mercia Police ( now called Bikesafe ) and then joined RAMG in 2002.
John passed his advanced test in 2003, his Observer test in 2005, qualified as a Senior observer in 2009 and in 2013 qualified as a National Observer. John's current steed is the Aprilia Caponord 1200.
Riding many long distance continental trips to Europe without a Satnav, John is keen to ensure today's riders make sensible use of technology without losing the basic skill of reading the road ahead.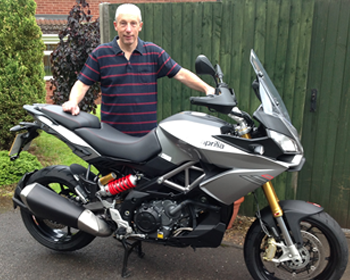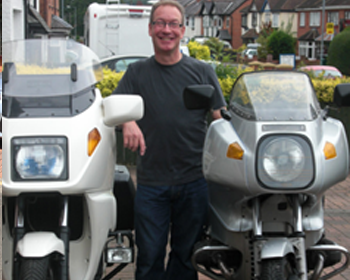 Mike Richardson - Chief Observer
Mike has been riding motorcycles since the age of 14; his first bike was a BSA Bantam, a bike that quickly became a Bantam Racer!
Mike passed his test in 1973 and had various bikes until his activities were curtailed by marriage, family and university. He has been involved in advanced driving since 1993 and rejoined the motorbike community in 2006. He then joined RAMG in 2008.
Mike became an Observer in 2012 and a National Observer in 2013.
His current bikes are a BMW K1100LT, a BMW R1200S and an Aprilia RS250 Mk 2.
Brent Prince - National Observer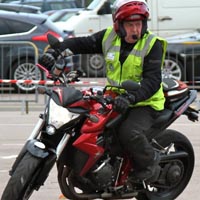 Brent has been messing around with bikes since the age of 10, tinkering with engines and making them run! His first was a Yamaha 80 road bike followed by various field bikes, including Suzuki 100s, Honda CD175, DT125 and TL185/250.
At the age of 17 he had a Suzuki GSX250 (learner legal in those days for the younger ones amongst you) and a GSX1100 for when he passed his test. Unfortunately, on his way to the test the 250 got a puncture - the examiner was not impressed when Brent turned up on the 1100 instead and he was sent home with a flea in his ear!! Two weeks later however, Brent did pass, on the 250 (!!) and has never looked back. He has owned a number of bikes including GSX400F, Z750, RD500, RD350LC, Suzuki 250RG, Bandit 1200, Tuono Racin, Speed Triple, CB1000R and a Kawasaki Versys, several of which he still owns.
He joined the IAM and RAMG in August 2009, passing his test in December the same year and has gone on to become an Observer, passing his knowledge and skills on to others. The invaluable training has been mixed with having fun and meeting new friends along the way! He very much enjoys being an active member of RAMG and would encourage anyone, regardless of age, to take up the advanced training. "Your riding experience will be enhanced and your fun factor will increase!"