Iron Man Run
February 18, 2018 : 8:45 am

-

5:00 pm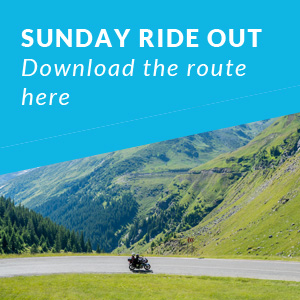 This week is the annual Ironman Run. The route is available in either the usual downloadable PDF or as a series of gpx files, one for each section of the route. The downloadable file is at the end of each section.
Please note that the start time is 08:45. There will be no observed rides this week unless already arranged. The Ironman run is your opportunity to practice all the good riding skills you have learned, enjoy the scenery and experience a group ride with like minded folk. 
The first cafe on the route stops taking breakfast orders at 10am, but will do cooked sandwich if ordered, so can we send out an email asking for orders. Those who are coming to iron man and want a cooked sandwich please let us know via email to groupsecretary@ramg.co.uk by Saturday, tea coffee and cake etc are all available without ordering up front. 
Safe riding.
1st exit A441 follow A4189 Warwick/M40 jn 15 south
Exit M40 jn 14 take 3rd exit A452/B4100
Left B4455 Fosseway/A425 Southam, continue on A425 past Napton on the Hill to Lower Shuckburgh
Left Lower Shuckburgh Rd Willoughby
Left over old railway bridge onto SawbridgeRd
Right signed Willoughby, Moor Ln/Main St continue to A45
Left A45 then 1st x roads right Longdown Ln, Barby
Over x roads Kilsby, The Ridgeway to A361
Left A361, Left A5 Nuneaton follow until just past Eddie Stobbart truckstop
Right Rugby Rd, Catthorpe via left Church Ln, station Rd, follow Catthorpe
Right at Giveway in Catthorpe follow Swinford, South Kilworth, under Catthorpe interchange right, S Kilworth continue to North Kilworth, A4304
Right A4304 Market Harborough
2nd Exit Welland Park Road continue to A508
Right A508 Northampton 2 miles to stop
Stop on Left Waterloo Farm Leisure LE16 8NB

Download
GPX file
---
Right on A508 Market Harborough continue past Welland Park Rd then 1st Right Springfield St, Superstores, continue via Kettering Rd 4th exit to A6
Left at A6 continue to 1st island then 4th exit A427 Corby
Immediately Left B664 Uppingham
Right in Uppingham to continue on B664, then @ lights right A6003 Corby, continue to Caldecott
Left B672 Morcott continue to A47
Cross A47 to right onto A6121, Stamford to 1st island Telegraph Hill
Left Station Rd, Edith Weston
Right @ mini island Normanton Rd, continue to A606
Right A606 Stamford, A1
A1 north to OK diner 1.7 miles
Stop Ok Diner PE9 4AD

Download
GPX file
---
Leave carpark via Left onto B1081 Great Casterton
Left Ryhall to B1176
Left B1176 Careby continue to Corby Glen A151
Left Corby Glen at top of hill right B1176 Grantham
@ A52 Left B6403 Colsterworth, after railway bridge turn left before A1 and go into Colsterworth
Right B676, @ storage depot take left Stapleford Rd due to road closure, then 1st right to return to B676 Left B676 Melton Mowbray
Left A606 / A607 after park turn left @ BP M&S B4067 Dalby Rd.
Continue B4067 over A47 to A6 Macdonalds @ Market Harborough.
Stop Macdonalds LE16 7FD

Download
GPX file
---
B4067 Market Harborough
Right A4304 Lutterworth, over M1 to A4303 continue to B4027 Stretton under fosse
Left @ Brinklow B4455 The Fosse, continue to Harbury Ln, X roads
Right Harbury Ln, Warwick continue over A452 to A425
Right A425 Warwick via left High Street /Right Bowling Green St to A4189 Left A4189 Redditch

Download
GPX file